About Us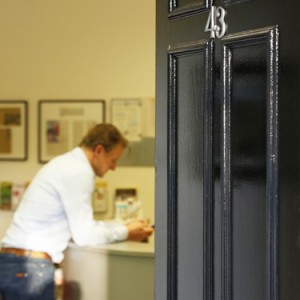 Chiropractor Julian Keel graduated in 1994 from the Anglo-European College of Chiropractic. He discovered our neighbourhood when he attended the Barnes Community Association Barnes Fair and fell in love with the surroundings and community feel. Originally located just over the road while Julian worked in the world of Formula One racing, he moved to a newly built, modern facility at 43 Barnes High Street in 2005.
Experience Pain Relief and Stay Well
At our practice, most people seek our help to get out of pain. All ages are welcome, from babies and children to teenagers, young families and grandparents. Many are working professionals who would like to keep active or participate in sport.
Over his years in practice, Julian feels fortunate to have seen many people get remarkable results from chiropractic care. He provides several different chiropractic techniques to tailor what he does to your needs and preferences, for an effective, comfortable experience.
MEET THE CHIROPRACTORS »

Discover Our Well-Rounded Approach
Along with chiropractic care, we provide Cranial treatment, Massage therapy, Nutritional therapy, Acupuncture, Reflexology, Counselling and Psychotherapy and Naturopathy.
We're proud to have an excellent reputation for the success our clients have found. Find out whether we can assist you. Contact our friendly, caring team today! We offer a 15-minute posture and spine check-up to see if Dr. Keel can help before you schedule your first appointment.

About Barnes Chiropractic Healthcare | 020 8878 7887